Volunteer Programs
Volunteer Programs
Voluntary programs to be undertaken by the LATEOTTGHANA team include a wide range of volunteer work.The main voluntary work to choose from are:
Medicine and healthcare

Teaching

Orphanage work

Football coaching

Community Teaching and Building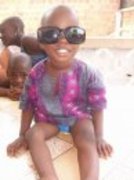 Teaching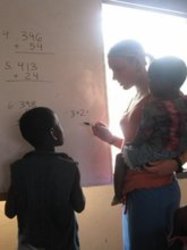 English which is the official language spoken and thought in Ghana is spoken and understood by all basic level all over the country,this gives volunteers an easier communicating medium with children he/she is going to teach thus,teaching and learning would be made easier for both the volunteer and the students.Ghanaian children start school at the age of 3 and often stay for six years in primary and three years in junior high.
The role most volunteers would prefer to take would be to teach English but people with interests in other subjects such as geography,science,mathematics,french and art could also have the chance to teach the subject of thier choice.Many volunteers start as class assistants but as thier confidence increases they could take up an increase in responsibility.
please note that if Ghanaian schools are on Holidays then summer school will be arranged for volunteers.
No formal qualification is required to teach.
Medicine and Health-care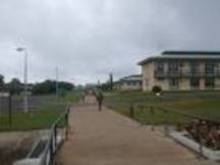 The Volta Regional hospital,Ho.
Orphanage work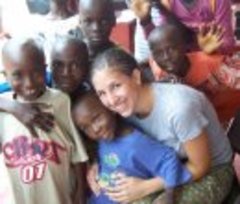 One of the most fulfilling and unforgetable volunteer programs undertaken by LATEOTTGHANA is the orphanage work.This is because working in the orphanage can really give you the chance to experience how it feels to bring a smile on the faces of children in the orphanages.
You will be taking on a number of roles whiles in the orphnage such as: carer,teacher,friend and playmate amongst many others.This is a fantastic chance for volunteers to experience life in an orphanage.
Football coaching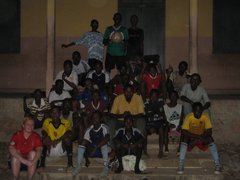 The passion for football in Ghana is very high amongst the youth and thus LATEOTTGHANA tought it wise to help train these young uprising stars in the game they love the most which is football.
As a volunteer you would be organizing and taking part in coaching sessions with the young players and helping to make them develop more interest in the game as well as helping to improve their skills in playing the game.
Our volunteers would coach in a football team known as Dynamo fc which is in Ho.The team is divided into 3 different squards which are the under 12s,under 14s and the under 17s.
No formal qualification is required to coach the players in the team all that is needed is your enthusiasm in the game of football.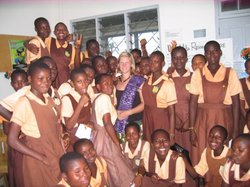 Sanna a volunteer with students from st.cecilia's school,Ho.
Community Teaching and Building